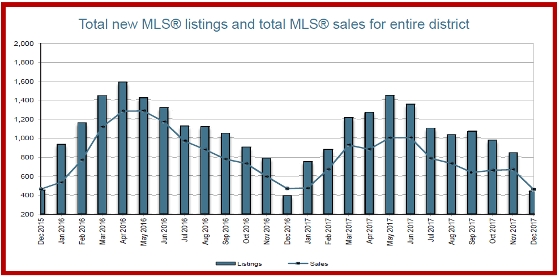 A total of 462 properties sold in the Victoria Real Estate Board region this December, 1.9 per cent fewer than the 471 properties sold in December last year.

A grand total of 8,944 properties sold over the course of 2017, 15.8 percent fewer than the record breaking 10,622 that sold in 2016. 2017 sales came in at 21.7 per cent over the ten year average of 7,349 properties sold.

"Early in 2017 we discussed how the Victoria area housing market would be different than the record breaking year we had in 2016 and that over the course of the year we'd probably see a gradual return to a more balanced market. We did see evidence of this change come early in the year, as multiple offers and rapid price increases leveled out," says Victoria Real Estate Board President Ara Balabanian. "However, the ongoing low inventory of properties for sale meant that buyers continued to experience competitive situations in high demand areas, and multiple offers were still a common occurrence as buyers negotiated in a tighter market. What we couldn't anticipate were outside factors such as changes to mortgage qualifying rules that may have pushed people into the market early. The pending mortgage stress test in particular is likely to have caused much of the increased activity we've seen in November and December."

There were 1,384 active listings for sale on the Victoria Real Estate Board Multiple Listing Service® at the end of December 2017, a decrease of 21.5 per cent compared to the month of November and 7.3 per cent fewer than the 1,493 active listings for sale at the end of December 2016. This is the lowest level of inventory for the area in the month of December since the statistic was tracked in 1996.

The Multiple Listing Service® Home Price Index benchmark value for a single family home in the Victoria Core in December 2016 was $753,900. The benchmark value for the same home in December 2017 has increased by 9.3 per cent to $823,800, and is slightly lower than November's value of $824,600.

"Overall, the low inventory and the continued interest in Victoria real estate meant that well-priced homes were quick to sell in 2017. Moving forward, we expect to see more inventory come into the market, which will continue to move us toward a more balanced state," adds President Balabanian. "We also expect housing prices to remain stable, without the increases we tracked in 2016, and anticipate steady slow growth. In markets like these, it's important to enlist the services of a REALTOR® to help you navigate what may be your largest transaction ever."