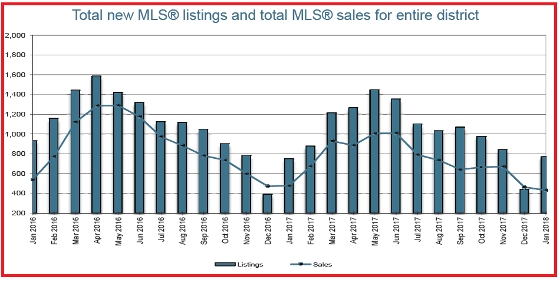 February 2018
A total of 431 properties sold in the Victoria Real Estate Board region this January, 9.8 per cent fewer than the 478 properties sold in January last year. The sales of condominiums were down 30.6 per cent from last year in January – with 118 sold. Single family homes were 4 per cent down from the previous year, with 215 selling in the first month of 2018.
"We expected January to be a bit slower after the increase in activity we saw in November and December, which was likely due in part to buyers entering the market early to avoid the new mortgage stress test," says 2018 Victoria Real Estate Board President Kyle Kerr. "We have yet to see the full effect of the stress test, as many people attained a 90 -120 day pre-approval before the test became required January 1. We won't know how much that stress test will affect the spring market until we see the numbers, and spring is also the time when sales traditionally pick up."
There were a total of 1,491 active listings for sale on the Victoria Real Estate Board Multiple Listing Service® at the end of January 2018, an increase of 7.7 per cent compared to the month of December and 1.6 per cent fewer than the 1,516 active listings for sale at the end of January 2017.
"2017 concluded with very constrained inventory levels, which hit record lows early in January. The lack of inventory in our market is maintaining pressure on pricing, especially as high demand continues in many areas of Victoria," adds President Kerr. "We can also see the effects of headwinds influencing our market in 2018, including attempts to curb demand at all levels of government. The mortgage stress test is the latest to be introduced, and we may learn of further measures later this month when the provincial budget is released. We hope the government takes a balanced approach to our housing market in their budget and offsets any further demand-side measures with initiatives aimed at addressing the ongoing supply shortages for both home buyers and renters. We also encourage our local governments to take some time to assess the effects of demand-side measures like the mortgage stress test and recent interest rate hikes before introducing further restraints on our market."
The Multiple Listing Service® Home Price Index benchmark value for a single family home in the Victoria Core in January 2017 was $761,100. The benchmark value for the same home in January 2018 increased by 9.3per cent to $831,900, slightly higher than December's value of $823,800. HPI benchmark valuefor a condominium in the Victoria area in January 2017 was $375,300. The benchmark value for the same condo in January 2018 increasedby 20.1 per cent to $450,600, which is slightly higher than December's value of $445,000.